You want to discover or find out more about INTRALOX company? You should be interested in this article…
I am Ronan Le Bourhis, founder of Hopi consulting. This series of articles is my wish to promote suppliers I like to share projects with, keeping in mind my goal to work on independence and with impartiality.
First, many thanks to GUILLAUME FICHET for his support in writing this article.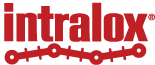 Founded in 1947, Intralox founder JM Lapeyre patented the first industrial shrimp peeler in 1947, but encountered problems moving the peeled shrimp on metal conveyor belts due to rust and corrosion building on the belts. Since 1971 (when Intralox was created) and over the last five decades, Intralox has developed a worldwide reputation in conveying solutions scope of supply. 
INTRALOX headquarters and unique production site are obviously located in New Orleans in the United States. INTRALOX has more than 10 sites all around the world dedicated to assembly and delivery the products to its customers. INTRALOX currently employs more than 2 400 people.
In Europe, INTRALOX is Headquartered in Amsterdam. Assembling is carried out in plants in Netherlands and Great Britain.
SCOPE OF SUPPLY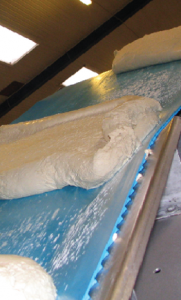 INTRALOX provides specialized solutions tailored to the needs of many different Bakery industry segments: bread and bun, fresh pastry (oven and fried pastry), pizza, pasta (fresh and dry), frozen bread, frozen pastry, cookies, and crackers. The scope of products conveyed is large:  starting from the dough (except baking step), then trays and pans in production stages to boxes and cartons in packaging areas.
MODULAR BELT

INTRALOX is so renowned that I am wondering if it is still necessary to introduce INTRALOX modular belt scope of supply? INTRALOX offers hundreds of belt series-and-style combinations across more than 40 belt series, made of different material including polypropylene, polyethylene, acetal and nylon (used for fire risk mitigation). In addition, accessories are available as well as both split and single-piece sprockets, flights, sideguards, wearstrips, retainer rings, and finger transfer plates bringing benefits regarding easy access, maintenance and hygiene.
THERMODRIVE BELTING

ThermoDrive technology combines flat, homogeneous thermoplastic material, and the positive drive feature of modular plastic belting with a patented drive engagement solution. This patented combination creates a one-of-a-kind tensionless belt system that eliminates the costs and complexities associated with managing a tensioned belt system. The way to enhance lifetime in belt conveyors scope.
ProTrax CONVEYOR BELT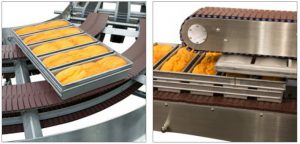 The Intralox® ProTrax™ magnetic conveyor belt is a solution for common pan area applications, including pan inclines and declines, metering conveyors, depanners/de-lidders, and radius pan conveyors. Especially in critical pan areas usually hot and oily. The patented ProTrax belt features permanent magnets embedded within the belt. The pattern and distribution of magnetic modules is configurable based on specific application needs. Based on my experience in such scope of production areas, I can easily imagine the benefits brought from such a solution:  a correct maintain of pan orientation on the belt or pan jams risks reduction. 
SPIRAL BELT & SPIRAL TECHNOLOGIES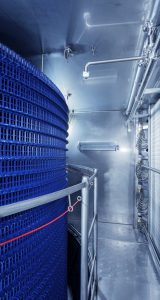 INTRALOX is committed to developing patented technologies and conveyance solutions for spiral applications. Direct drive solution, submitted later in this article, is a good example.  An extension of the Intralox DirectDrive™ System (DDS™) is the DirectDrive Stacker. This is a modular plastic solution that combines the hygienic and space-saving benefits of stackers with the simplified operating system advantages of the Direct Drive System. The DDS stacker provides benefits such as a small footprint and maintenance time reduction.
PROCESS INNOVATION
I asked INTRALOX to focus on their main innovations, here they are: 
DIRECT DRIVE SYSTEM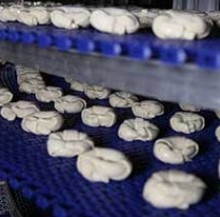 Intralox's DirectDrive™ System ensures smooth and reliable spiral performance by eliminating overdrive and performing without interruption. This solution offers significant advantages over traditional friction-driven systems, especially for crucial applications like freezing, cooling, or proofing with and critical products as well as oily and decorated products (viennoisereries and pastries).
ARB CONVEYING TECHNOLOGY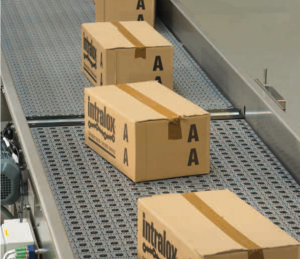 I will never get tired of watching these videos of cartons flows being divided, aligned, merged…Intralox's patented Activated Roller Belt™ (ARB™) technology provides efficient and reliable solutions to sort, merge, turn all kinds of boxes and cartons. Watch this video of conveyors using ARB technology  for example. This solution pushed past the boundaries of traditional conveying systems and optimizes the design of the conveying line.
TO CONCLUDE...
Even if INTRALOX is renowned for the production and supply of modular belts, technology and continuous innovation made this company being able to add many other solutions and options over the years. Each time I meet people from INTRALOX it is always a delight because everyone is easy and pleasant to talk with. A way to share ideas and make new solutions come out. I would like to end this article by naming Marc GOSSELIN for whom spiral solutions hold no secret anymore…
If you want to discover more, visit the website of INTRALOX. 
Take a few minutes to look at INTRALOX YouTube CHANNEL to see a large scope of very nice videos.
This article has been written by Ronan Le Bourhis, founder of Hopi consulting, engineering dedicated the baking industry. Discover more articles in Hopi consulting blog.