You want to discover or find out more about KAAK GOUP company? I think you should be interested in this article…
I am Ronan Le Bourhis, founder of Hopi consulting. This series of articles is my wish to promote suppliers I like to share projects with, keeping in mind my goal to work on independence and with impartiality.
I set up many joint projects with KAAK in the bakery industry. So it sounds very special but it is a real pleasure to start this article. Many thanks to LAURENT TRAVERS for his support.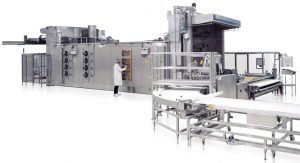 In the 1960's, craft bakeries became more and more industrialized. From the very start of this process, KAAK was one of the primary systems architects for bakery automation. Then, KAAK has expanded by integrating other companies. First BENIER and soon after DAUB then MCS and LHOTELLIER R2A. The group is composed today of these 5 productions sites. They are all dedicated to the bakery industry with a large scope of supply, starting from the manufacturing of process machinery to the supply of coated trays, pans, patterns and peel boards. KAAK group is composed of 700 people and achieves sales of 170 M€. The group is located in the Netherlands and carries out projects all around the planet.
SCOPE OF SUPPLY
KAAK GROUP is compose of 5 units, each one is dedicated to a specific scope of supply. Here is a large overview for each of them.
BENIER – DRIEM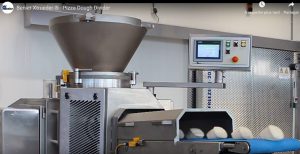 BENIER designs and builds dough production and dough handling systems for all types of dough. The main focus at BENIER lies on dough handling especially during dough dividing, rounding and moulding stages. The scope of supply is also composed of dough resting units and proofers.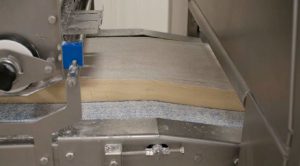 DRIEM brings solutions through sheeting process machinery with a focus on stress free dough handling. A way to offer suited solutions for artisan breads, sandwich loaves or pizza dough.
KAAK
Here is the largest scope of supply. First scope is the range of multi-deck proofers and mutli-step proofers. Each proofer is tailor-made and accommodated with control systems for an easy drive of the room conditions and the proofing time.  Second scope is scoring process. KAAK offers traditional scoring systems or vision guided robotic scoring systems to automate labor-intensive processes. Third scope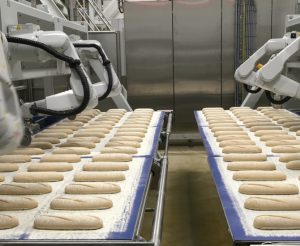 consists in de-panning equipment supply for products transfer before and after baking stage in the oven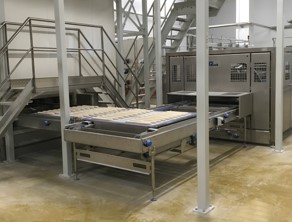 (scrabbler/needle/fakir de-panners and suction de-panner for products baked in trays).  KAAK scope of supply is also composed of spiral solutions for proofing, cooling and freezing steps. Well, last scope of furniture is composed of various conveyors and belts (straight or curved, multi roll or multi cord, driven or not driven…) for peel boards and trays handling (buffer, stacker…).
MCS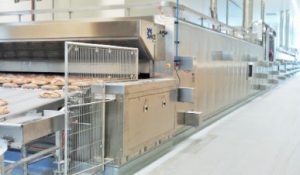 MCS company is the unit dedicated to tunnel ovens using cyclothymic or impingement baking technologies. They can be supplied with different baking conveyors: wire mesh, stone plate, steel plate or cross bars. MCS scope of supply is also composed of proofers and continuous/discontinuous hot pressed for pizza dough.
DAUB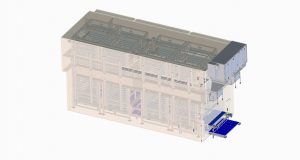 DAUB is also an oven supplier with multi step design and thermal oil boiler options for baking.  An indexing chain at the entrance of the oven brings the baking trays stepwise into the oven. When a tray enters the first baking chamber, it is lifted up stepwise towards the top of the oven. The trays are then pushed into the second baking chamber, where a similar stepping mechanism will bring them down. This process is repeated, after which the trays leave the oven.
LHOTELLIER R2A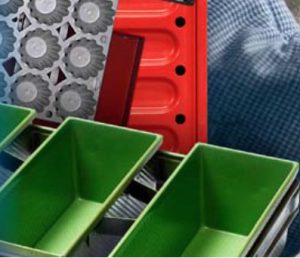 LHOTELLIER R2A is specialized in coating trays and pans with rubber, silicone or Teflon. LHOTELLIER R2A conducts an in-depth study into non-stick and de-panning coatings to guarantee optimal de-panning with every product and every type of pan.
PROCESS INNOVATION
Scoring – Vision technology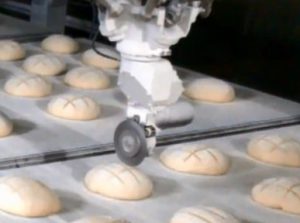 By means of 3D vision technology a 3D image of all individual products is made. Position, orientation, height and shapes are identified. This information is sent to the robot control system. All 6 axis robots give maximum flexibility on cutting patterns. By means of the unique Kaak software, the scoring patterns can be easily  programmed  for each product. The dedicated software will distribute the products over the scoring robots in such a way that all robots run at the most efficient loads.
New DRIEM line
The DrieM sheeting process consists out of a couple of steps always starting with the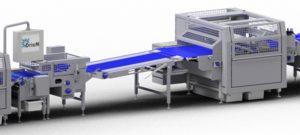 creation of a sheet of dough. From this sheet of dough almost all thinkable forms can be made using different steps in the same sheeting line. The three main forms that are available are cut, moulded (or coiled) and rounded. Therefore, DRIEM technology allows an ultimate freedom in ingredients and recipes. This line is designed and dedicated to sheet a wide variety of bread dough, with high water content up to 90%. Here are some smart conception ideas:  yet open designs easily accessible for cleaning and service, or the absence of chains and the choice to provide only direct-driven motors.
New service PORTAL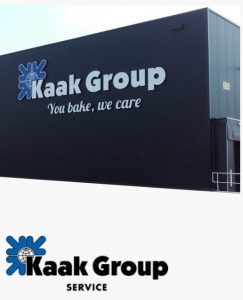 The Kaak Group Service portal provides access to all the services, spare parts and information for your Benier, Daub, Kaak FPS and MCS equipment.  Kaak Group Service is available worldwide. Here is the complete list of services: Spare parts and Products, Inspections, Information, 24/7 Emergency Line, Revisions and Kaak Group Technology Center for training or innovation tests. 
TO CONCLUDE…
KAAK group has a very large scope of supply. Following projects carried out together, I recall always the same feeling about this company: an impressive quality of being well organized and a very methodic approach. Enough to feel confident by their side considering furthermore the quality of their scope of supply. 
If you want to discover more, visit the website of KAAK GROUP. 
This article has been written by Ronan Le Bourhis, founder of Hopi consulting, engineering dedicated the baking industry. Discover more articles in Hopi consulting blog.